Leave a comment so I can visit you!
Family safe blogs.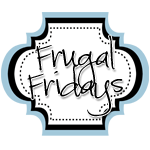 1. Follow Host "The Frugal Free Gal" and Co-Host "Inspiring You 2 Save"
2. Add your blog link.
3. Follow any blogs below that you are interested in.
4. Tweet this blog hop as active so we can get others on board!
5. Grab the "Frugal Fridays" Button for your blog.
6. Grab the linky code and place it on your blog in a new post.
More Great Blog Hops:
add your blog free and get new followers: