CLICK HERE
to join the Blog Hop
from
Non-Typical Mom
:
I have started this Blog Hop due to the want to meet new bloggers, and see their blogs. I love to see what others are doing all over. The rules for this Blog Hop are super easy. Grab the button, post it in a post with other Sunday hops or just by itself. Leave me a comment, if you follow, so I can follow back.
If you need twitter followers, or facebook, leave a link to that on the linky form.
----------------------------
ToesthatTwinkle's
Sunday - Monday Smiles Blog Hop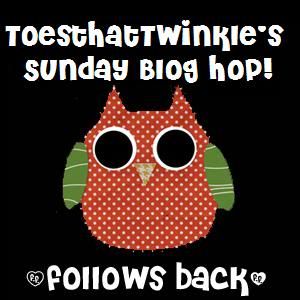 CLICK HERE
to add your blog
Here are the rules:
1. Grab the button and display it on either a post or on a sidebar.
2. Follow the hostess, me, in the first spot.
3. Leave your link
4. Leave a comment
5. Have fun and try to follow at least 2 blogs- including mine!